September 6th, 2017
Dilworth Home Tour is Coming to Charlotte This Weekend
The 2017 Dilworth Home Tour is right around the corner and whether you're an architecture bluff, interested local resident or a lover of Charlotte history, it is a night you will not want to miss.
Helen Adams agent Libby Gonyea is a Dilworth resident and repeat volunteer at the home tour.
"Friday evening is super fun but a short window to view the homes so I suggest grabbing that quick glass of wine or great craft beer at one of the walkable breweries and then hit the road to start the tour," said Gonyea. "You only have 3 hours to tour these fabulous homes [Friday night]. Then grab dinner and drinks afterwards at one of the great dining spots that Dilworth has to offer."
Gonyea suggests not skipping out on any of the houses, mentioning that some of her favorite homes on the tour have been the most unassuming from the street. But once you walk inside you'll be blown away by the details and architecture.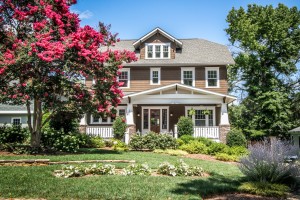 If you're a fan of the homes and neighborhood vibe in Dilworth, take a look at Gonyea's new listing at 2321 Winthrop Avenue in the heart of Dilworth.
Dana Jodice, Helen Adams Realty agent and Dilworth Home Tour volunteer, said that guests should walk the tour so they're able to see the unique neighborhood and charm in the personality of the homes, parks, restaurants and retail. She also said that many of the home's designers will be there and to capture ideas from them as you walk through the tour. Outdoor spaces are available to tour as well, with all the latest backyard and patio trends and Pinterest-worthy ideas.
Tickets are available in advance for $25 at Dilworth Drug, Paper Skyscraper, Park Road Books, High Cotton Home and both locations of Ultra Running Company. Guests can also purchase tickets online. The tour guide book is your ticket to each home and Jodice said that it's worth taking a few minutes to read about each home before you tour it to add a little more meaning and depth to your visit. The Dilworth Community Association started the home tour in 1973 and each year, a community charity receives the proceeds. The 2017 charity is the Dilworth Soup Kitchen.
Homes will be open to view from 6 p.m. until 9 p.m. on Friday, September 15 and 10 a.m. to 4 p.m. Saturday, September 16. A full list of homes included on the tour can be found at the Dilworth Community Association website.