June 12th, 2019
Front Porch Tips for Summertime Curb Appeal
With warmer weather, longer days, and more sunshine than ever, your home's exterior becomes a focal point during the spring and summer months. Your home's curb appeal and landscaping are the first impression for visitors, including any potential buyers. Whether you are thinking about selling your home or interested in sprucing things up for the summer, it's time to give your front porch some extra love and attention.
Framing the door with plants will give your front porch the sense of a grand entryway regardless of the size. Remember to consider scale and get plants and pots that look appropriate for your front porch size. Hanging planters, different sized pots, and a variety of foliage will add dimension to the space while pleasing any garden enthusiast.
739 Lochaven Road – Listed by Christine Hotham
When decorating your outdoor space, keep your design style consistent with the rest of the home. For example, if you own a Victorian home, a Japanese garden in the front yard might look out of place and disconnected. Once you are able to continue the flow and connectivity from inside the home to outside the home, visitors will notice. Think about incorporating similar color palettes, furniture texture, or throw pillows to create that balance between the indoor and outdoor spaces.
While considering new design elements for your front porch, who says wreaths are just for fall and winter? Summer wreaths can add a variety of texture or a pop of color to your curb appeal and draw visitors' eyes to the entrance to the home. Incorporate a more floral vibe into the wreath with hydrangeas, daisies, dahlias, and other brightly colored blossoms to keep that summertime feel.
Depending on the size of your front porch, you could add outdoor furniture. A weathered bench, a rustic table, or hanging planters in various sizes can enhance the look of your front porch and give it the extra components needed to impress guests. Again, keep in mind the design style of the inside of the home and bring some of those elements out.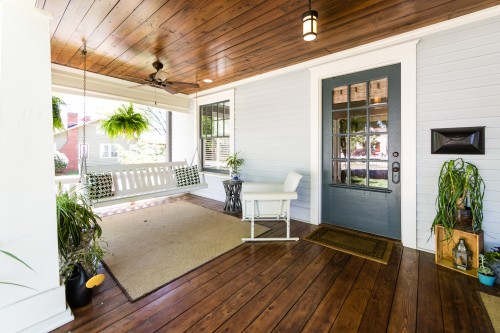 701 Oakland Avenue – Listed by Eric Layne
From colorful foliage to summer wreaths and updated porch displays, there is plenty of inspiration for your new and improved curb appeal. These front porch ideas will add to your home's value and give you an inviting place to relax on a warm summer day.